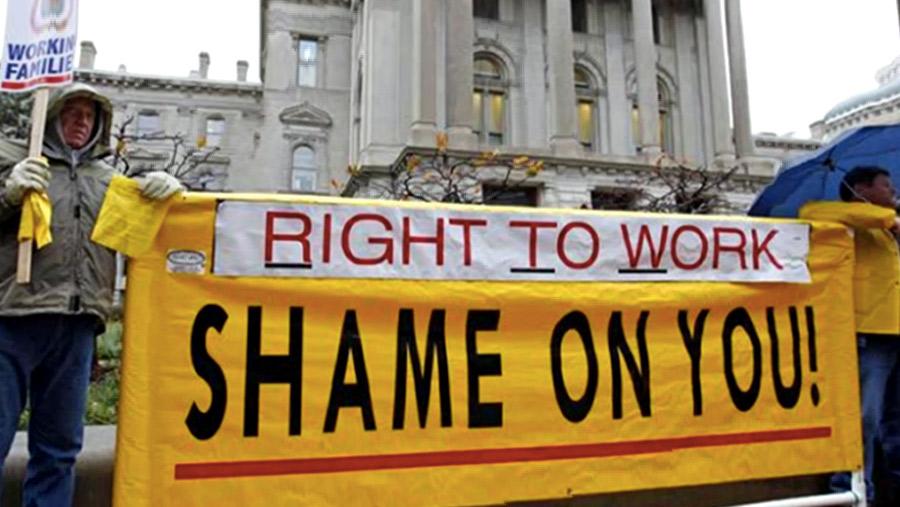 On the first day that the Kentucky legislature got underway with a newly elected Republican House, a Republican Senate and a Republican governor, the Koch brothers' Americans for Prosperity group blew the whistle and legislators jumped to do their bidding.
This week, the Speaker of the House Jeff Hoover rammed through the legislature three bills to break the back of unions and lower wages for highly-skilled construction workers.
It was bare-knuckled partisan politics. "We can pretty much do whatever we want now!" crowed GOP Kentucky Rep. Jim DeCesare behind closed doors.
You have only to look at Trump's narrow victory in Rust Belt states to understand why the GOP is desperate to get rid of the Democratic Party's boots on the ground.
Trump won by narrow margins in Wisconsin and Michigan and took Indiana. These are three states where unions -- the only organized voice for working families able to stand up against CEOs and corporate elites -- were crushed by right-wing governors after Obama won them in 2008.
In Wisconsin, union membership is down an estimated 133,000 since Governor Scott Walker destroyed a 50 year tradition of peaceful collective bargaining for higher wages. Trumps margin of victory? Less than 30,000.
More ...