Dropkick Murphys to Union-busting Gov. Scott Walker: "Stop using our music…we literally hate you"
This past weekend, at the Iowa Freedom Summit, union-busting Gov. Scott Walker, who may be considering a push for a right-to-work law in Wisconsin, took the stage using Dropkick Murphys' "I'm Shipping Up to Boston" as his entry music. Although Walker may be a fan of the Boston celtic-punk group, the feeling is not mutual. In fact, they literally hate him.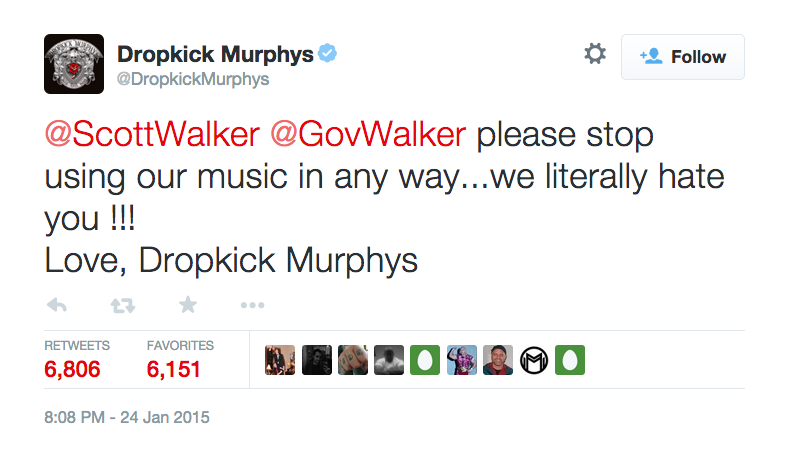 The song, about a one-legged sailor searching for his missing wooden leg and originally written by Woody Guthrie (who was certainly no friend of politicians like Walker), is apparently a favorite of Wisconsin Republicans. Dropkick Murphys took issue with Senate candidate Jeff Fitzgerald using the song in 2012, saying on their Facebook page:
"The stupidity and irony of this is laughable. A Wisconsin Republican U.S. Senate candidate - and crony of anti-Union Governor Scott Walker - using a Dropkick Murphys song as an intro is like a white supremacist coming out to gangsta rap. … We stand beside our Union and Labor brothers and sisters and their families in Wisconsin and all over the U.S!"
Dropkick Murphys' disdain for Walker is hardly new. In 2011, during the protests against Scott Walker's proposed Wisconsin Budget Repair Bill and its decidedly anti-worker provisions against collective bargaining, the band released "Take 'em Down," in solidarity with the protestors. Apaprently none of Walker's staffers thought to Google "dropkick murphys scott walker" before picking the song.
***
Originally posted on In These Times.